Hi5 Photo Recovery
Restore deleted and lost images, audio, video and other media files easily
RAW images created on popular camera brands can be recovered
Selective recovery process enables quick recovery
Offers free preview of recovered media files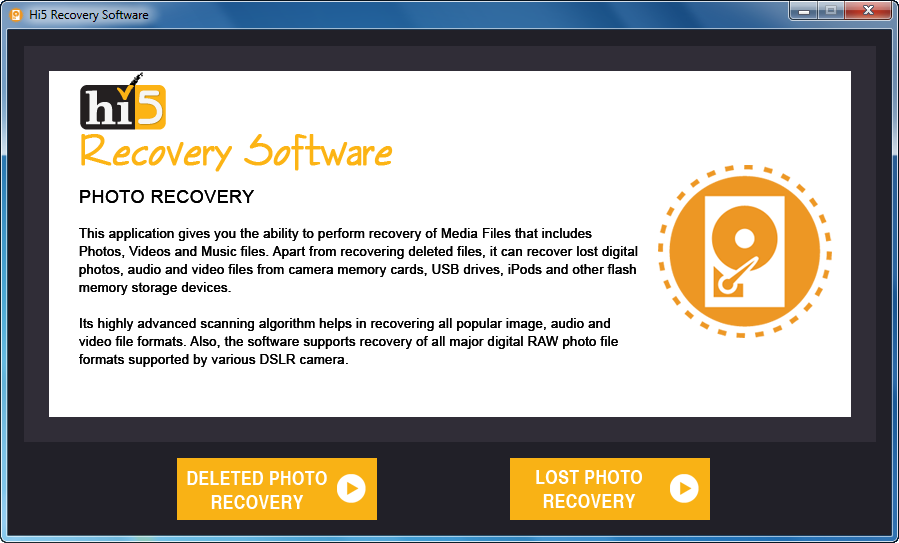 Get back your Deleted or Lost Memories in a very simple way!
Every user believes that photos are the only source of past memories, so no one wants to lose them. If images get erased due to some unexpected incidents then it will be very distressing situation as these pictures cannot be recreated like other files. Hi5 Software Photo Recovery is complete solution that helps in performing media file recovery utmost ease. Its highly interactive interface with complete step-by-step guidance makes recovery process simple and hassle free for all sorts of users. Some of the notable features of this tool are:
Features of Hi5 Software Photo Recovery tool that made photo recovery easier..
Software can recover deleted or lost media files quickly and in simple manner
Images erased from Recycle Bin or shift deleted can be recovered easily using this tool
It can retrieve media files of numerous formats in mere seconds
Simple graphical user interface of this tool reduces complexity of recovering multimedia files
You can restore images from various brands of camera models such as Nikon, Canon, Olympus, Kodak, Panasonic, etc. on connecting them to Windows system
Software can carry out image, audio and video recovery from various external storage devices like portable hard drive, pen drive, memory card, etc. within mere seconds
You can have preview of images to be stored before using licensed version
You can compress recovered photos in zip format to save disk space
24*7 assistance is available to free customers from any doubts regarding product
What made you lose your photos?
Inappropriate Cut Paste Operation: Using cut operation on other images before pasting previously cut files, shutting down system before pasting cut pictures, interruption due to technical issues while pasting cut photos like system crash or hard drive, etc. can remove photos forever.
File System Corruption: Camera memory card containing lot of images when connected to system for purpose of transfer of data must be removed after its task using "safely remove hardware" option. Sudden removal of this device each time you use it on system may result in corrupt file system of card leading to loss of images present on it.
Improper Ejection: Repeated ejection of memory card from camera device when it is turned on may result in corrupted memory card refusing user to access photos and video files from it resulting in loss of data present in it.
Human Mistake: Accidentally clicking on "Delete All" option while previewing photos enclosed in camera leads to erasure of all images.
Supported File Formats:
Photos / Images – JPEG, PNG, TIFF, WEBP, IMG, GIF, BMP, JPG, PSD, TIF, EXIF
Digital RAW Images – KDC, BAY, ARI, ORF, SRW, MOS, NEF, CR2,,MRW, 3FR, PEF, R3D CRW, DNG, ARW, SR2, RAW, X3F,RAF, PXN, K25, DCR, 3FR
System Requirements:
Operating System: 32bit and 62bit system with Windows 10, Windows 8, Windows 7, Windows Vista, Windows XP, Windows Server 2003 and 2008 operating systems
Disk Space: Minimum of 50 MB free space
File systems supported: FAT16, FAT32, ExFAT, NTFS and NTFS5
Steps to Restore Deleted or Missing Photos using Hi5 Photo Recovery Software
Download Hi5 Software Photo Recovery Tool and complete simple installation steps
Two major options will be displayed - "Deleted Photo Recovery" option and "Lost Photo Recovery" option. (If you think images are missing, then select Lost Photo Recovery option. If the pictures are deleted knowingly or unknowingly, then go with Deleted Photo Recovery option) (Fig 1)
Select the drive from where you want to recover photos(If you've connected external storage drives, then select that particular disk) and click on "Next" option to start photo recovery process (Fig 2)
Image recovery process will take some time... (Fig 3)
After finishing the photo recovery process, you can view recovered pictures in "Data Type View" and "File Type View" (Fig 4)
Click on "Save" option to store retrieved photos on any location of your choice successfully!
Related Software
Know about different scenarios due to which, you may lose your precious files from different storage devices and how to use Hi5 File Recovery Software to restore files on Windows.
Highly recommended SD Card Photo Recovery Software, which is capable of restoring images from SD that are deleted or lost due to numerous reasons!
© Hi5 Software, All Rights Reserved - All other trademarks acknowledged