Hi5 File Recovery
Easily recover deleted or lost files from your Windows computer & any other storage devices
Restore more than 280 types of files
Quick scanning mechanism makes file recovery faster
Simple interface ensures hassle-free recovery process for all users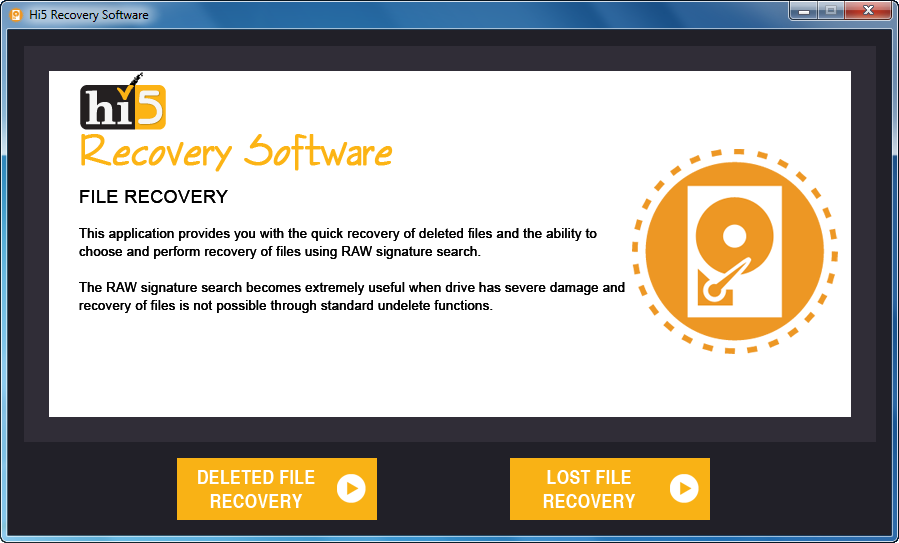 Recovery of Deleted or Missing Files is made easier than before...
In this busy life, people tend to make mistakes while working with their files. Even an incident which you think silly operation may cause you a major loss. Unluckily, if there is no any backup copy then you need to put an effort to find right software to recover those erased files, which is the only option which will be left back with you. Hi5 Software File Recovery is best file recovery software that makes your data recovery task easier. Functionalities of this tool has made it unique than other.
Key Features of Hi5 File Recovery Tool
File loss is not a big issue now! Start recovering deleted or missing files using Hi5 Software File Recovery Software:
Hi5 Software is an ultimate choice which helps in restoring your Word files, compressed files, database files etc. from system
Professionals have designed a tool in such a way that your drive gets scanned faster, so that result of file recovery will be available in no time
One can retrieve erased files based on its unique signature
Recovered files can be compressed easily in a click to reduce occupied disk space
It is capable enough to retrieve data from various hard drive interfaces such as SATA, SCSI, IDE, etc.
Helps in sorting recovered files on the basis of their name, size, date, file type, etc.
This ideal utility is capable enough to restore files from various portable storage devices like external hard drives, pen drives, FireWire drives, etc.
Any queries regarding product or restoration process are clarified by our technical support team available 24/7
Software has simple interface that makes any common user to carry out recovery process easily
Know your mistakes to avoid file deletion or loss instances in future…
Human Mistake:Deleting huge amount of files using shift + delete, interruption in performing cut paste operation are some of the common reasons which lead of loss of files.
File Inaccessability:Sometimes improper usage of system will affect system related files causing in inaccessibility of the files.
Empty Recycle Bin:Recycle Bin is also referred as deleted items folder, as it stores your files that are deleted knowingly or unknowingly. Hence some essential files may also be present in it. If you empty Recycle Bin without checking its content then you will lose your important files along with unwanted ones.
Bypass Bin Folder:Recycle Bin of Windows has certain storage capacity. If you delete a file from the drive which is of large size than that of Recycle Bin then file bypasses this Bin folder and get erased permanently from the system.
Software Requirements:
Supported Operating Systems: Windows 10, Windows 8.1, Windows 8, Windows 7, Windows Vista, Windows XP, Windows Server 2003 and 2008
Supported File Systems: ExFAT, FAT16, FAT32, NTFS5, NTFS
Hardware Requirements:
Memory: Should have minimum of 1 GB RAM
Disk Space: 50 MB free space to make installation successful
How to Recover Files and Folders in Windows using Hi5 File Recovery Software?
Download and Install Hi5 Software File Recovery Tool on your Windows System
Page will be redirected to main window, which shows two main options "Deleted File Recovery" option and "Lost File Recovery" (Fig 1)
Select appropriate option based on the situation you're facing
Software will ask you to select the drive (Fig 2) from where you're willing to recover files/data
Choose the drive and click on "Next" option to initiate the file recovery process
Wait for sometime...(Fig 3)
Once the data recovery process is completed, you can view recovered files using "Preview" option (Fig 4)
Click on "Save" option to save retrieved files on any desired location
Related Software
Use Hi5 Software Photo Recovery to recover deleted or lost image files like JPEG, PNG, GIF, JPG including RAW images captured using various brands of Digital Cameras.
Recover lost files of any formats from corrupted, formatted or crashed hard drives formatted with FAT and NTFS file systems, by utilizing the best Hi5 Software Partition Recovery Tool.
© Hi5 Software, All Rights Reserved - All other trademarks acknowledged