Hi5 Partition Recovery
Quick and easy process to recover deleted, lost or missing partitions
Helps in recovering FAT16, FAT32, ExFAT, NTFS and NTFS5 formatted partitions
Faster recovery of RAW partitions
Simple interface makes partition recovery effortless for every user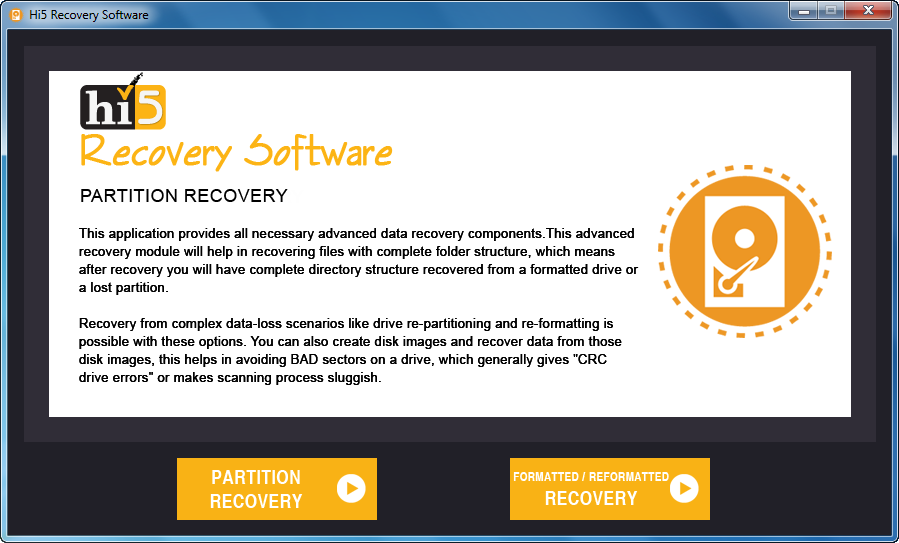 Easy solution to get back your partition data in less time!
Partitions are the storage area of the hard disk divided according to user's convenience. Partitioning is done mainly to organize your data based on its usage like system files and user files in order to improve the drive performance. If any of the partition is invisible in system due to some reasons then you end up with file loss from specific partition. Well, Hi5 Software Partition Recovery assists in recovering back such deleted and lost partition quickly and easily.
Must know features of Hi5 Software Partition Recovery:
Software accomplishes deleted, lost and corrupt partition recovery effectively
Flawlessly recovers files of all formats after scanning drive in no time
Restores partition erased from various brands of hard drives like Seagate, Dell, HP, Lenovo, WD and many more
Easily regains partition that is deleted while repartitioning hard drive using disk management utility
Effectively recovers formatted and reformatted RAID 0, RAID 1, RAID 5 active partitions
Tool can be used to get back data after formatting partition to different file system
Software will help you to get back hidden or inaccessible partitions effortlessly
Every common user can recover partition data smoothly with its easy interface
Using this toolkit you can recover partitions on external hard drive and from various portable devices
You can have a preview of recovered data before proceeding with licensed version
When users are forced to search for reliable software?
Format Partition: Sometimes due to corruption for file system may make drives inaccessible by displaying error. To get rid of this error and free occupied space you may tend to format that partition
Partition Table Corruption: Partition table contains database of list of partitions present on hard disk and address of their location. In case this partition table gets corrupt, OS will not be able to identify or access any of your partitions
Repartitioning: When you reinstall OS, you will get an option to repartition the hard disk. If you fail to perform repartitioning process properly then you will end up with an error which even make user to lose existing partition
Disk Management Utility: Using disk management utility you may try to extend one of the partition size by deleting the other. But mistakenly you may select other partition to which you have not planned and delete it in hurry losing all your data
Supported File Formats:
Documents – DOC, DOCX, HTML, XHTML, TXT, RFT
Photos / Images –  PSD, PNG, WEBP, IMG, JPG, JPEG, GIF, BMP, TIF, TIFF
Archives- - RAR, JAR, CAB, 7Z, ZOO, ZIP, APK, RPM,
Video Files – AVI, MOV, 3G2, RM, MP4, 3GP, AVS, CPI, DZP, M4V, AVP, MPEG, MPG
Music / Audio Files – MP3, MP4, WMA, MPC, MIDI, M4A, AIFC, RA, AMR, AIFF, AIF, AMR, M4b, WAV
System Requirements:
Easily installed on Windows 10, Windows 8, Windows 7, Windows Vista, Windows XP, Windows Server 2008 and 2003 (32bits and 62bit) with 50 MB free hard disk free space and 1 GB RAM. It supports popular file system such as FAT 16, FAT 32, ExFAT, NTFS and NTFS5
Hard Drive Brands Supported: Transcend, Toshiba, Dell, SanDisk, Lenovo, HP, Hitachi, Kingston, Fujitsu, Quantum and many more
Steps to Recover Deleted, Lost, Corrupted or Formatted Partition
Partition Recovery steps are simple and easy, all you need to do is - just a simple click on Download button given on top of this page. Download Hi5 Software Partition Recovery on any Windows system and complete the installation steps, then follow the below given steps -
Main screen will display "Partition Recovery" option and "Formatted / Reformatted Recovery" option (Fig 1)
Select "Partition Recovery" option if the partition is deleted, lost or corrupted
In case, if the partition is formatted or reformatted intentionally or unintentionally, then go with "Formatted / Reformatted Recovery" option
Now, select the drive from where you want to recover partitions and go to "Next" option to start partition recovery process (Software will display all the available drives present in your system, including externally connected hard drives)(Fig 2)
Partition will be recovered in a short interval of time (Fig 3)
Once the recovery process is completed, retrieved partition data will be displayed in "Data Type" and "File Type" views (Fig 4)
you can check recovered partition files using "Preview" option
Click on "Save" button to successfully store recovered data
Note - Hi5 Software Partition Recovery offers Demo and Full version, both functions same. The only difference you find is - Save button will not be enabled in Demo version whereas using Full version you can easily save recovered data on any desired location in minutes. Try using Demo version first, and if you're happy with the results, then you can go with Full version and save retrieved files easily.
Related Software
Find the simplest way of restoring deleted / lost files from Windows OS with the help of effective features equipped in Hi5 Software File Recovery. Tool is capable of restoring a large number of file formats.
Sophisticated hard disk data recovery software to restore various types of files and folders stored in it in a short interval of time on all versions of Windows computers. Demo version of this tool is free, give it a try now!
© Hi5 Software, All Rights Reserved - All other trademarks acknowledged