How to Restore Partition after Diskpart Clean
Diskpart is a built-in command-line utility on Windows computers, used to perform tasks like creating, resizing, formatting, deleting, adding or cleaning a partition. With simple commands, you'll have your job done in a matter of few seconds. And it's the same when it comes to losing the data; you'll lose it in seconds after entering the clean command. So one has to be careful while operating Diskpart command-line.
The most common human error while using diskpart clean command is; executing it on a wrong a disk. Let us look at an example: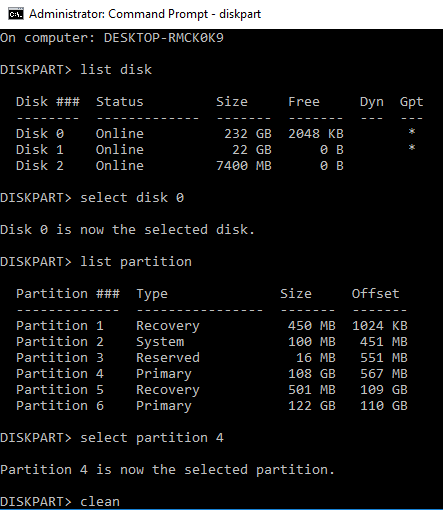 In the above screenshot, the clean command was executed on Partition 4 instead of Partition 6 which eventually led to data loss. NOW, THE Big question – how to recover the partition data after Diskpart clean command?
Well, the data after Diskpart clean can be recovered if you follow the below mentioned process immediately. The sooner you follow it; you can expect a better data recovery outcome. The process has been divided into three stages and they are;
The Golden Stage #1: STOP using the partition. Do not perform any operation on the affected partition as it will overwrite the data and you will not get your entire lost data.
Stage #2: Download data recovery utility to recover the data lost due to Diskpart clean command. Hi5 Software Partition Recovery tool – the ultimate partition recovery software to restore the entire partition data without altering any of the files or folders. Make sure you install the program on a different drive.
Hi5 partition recovery program has an advanced algorithm which deep scans the partitions to restore the lost data. With this tool, you can restore deleted, corrupted, formatted and RAW partitions as well. You can make use of this tool if you are looking to restore Dell laptop hard disk data, HP, Lenovo and other Windows OS computers.
Stage #3: Data Recovery Process after Diskpart Clean
Run the program and select Recover Drives - Partition Recovery.
Select the partition to recover the data on which you executed Diskpart clean command.
Once the software scans the partition, it will display the recovered data in Data View and File Type View mode.
Select the files and save them to another drive.
Follow some safety measures to avoid loss of data after Diskpart clean:
Have a complete knowledge about Diskpart commands before performing any action using Diskpart.
Write down the partition number on which you want to perform a clean command, so that you'll know you are selecting the right partition.
Always maintain a backup of vital data in some external storage devices before executing Diskpart utility.
Related Software
Safe and easy way to recover lost or deleted photos using Hi5 Software Photo Recovery tool. This software works on all versions of Windows System including Windows 8.1
Hi5 Software File Recovery Mac
Dynamic tool for restoring files from Mac Operating Systems. It supports recovery of lost or deleted photos, documents, videos and many more.
© Hi5 Software, All Rights Reserved - All other trademarks acknowledged