Hi5 Partition Recovery for Mac
Restore HFS/HFSX Volumes easily
Recover deleted and lost Volumes data in no time
Deals with formatted, reformatted, corrupted Volume easily
Simple and intuitive user interface makes Volume recovery easier and quicker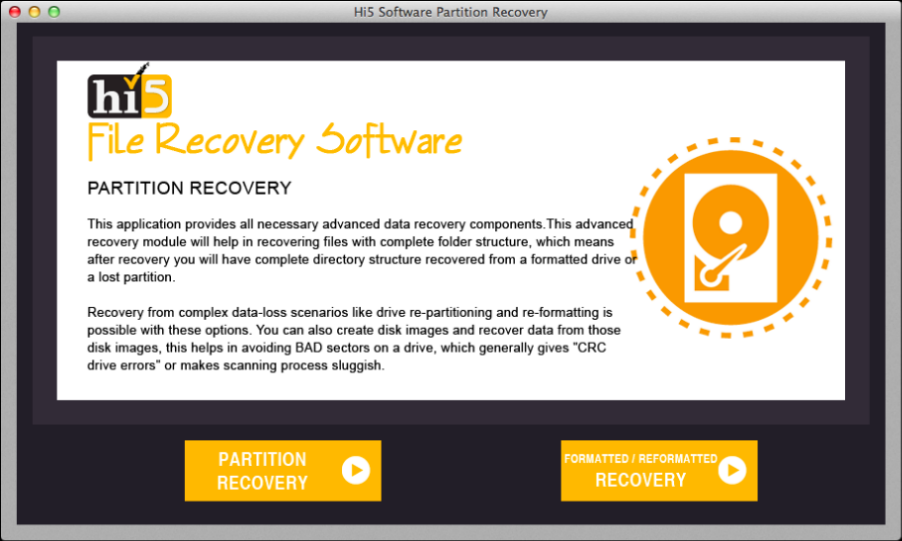 Easy solution to Recover Data from Mac Volume:
Mac is highly secure and reliable OS developed by Apple Inc. Partitioning in Mac OS is done mainly to segregate files according to user's convenience. If one of the existing Volumes of Macintosh systems is invisible or showing blank then you would lose your important data stored on it. Using Mac systems even after losing or deleting your Volume would increases the chances of erasing the data beyond recovery. However if you act fast then you can get back your vital data from the Mac Volume with the help of Hi5 Software Partition Recovery Mac. Advanced features of this tool helps user to recover Volume data in fast and simple manner.
When you need assistance of Hi5 Software Partition Recovery for Mac?
File System Conversion: Errors that occur while conversion of file system on Mac hard disk drive may corrupt your Volume making it inaccessible.
Hard Drive Crash: If your Mac hard disk gets crashed then you will lose all the Volume present on Mac system. This sort of crash mainly occurs due to improper usage, overheating of device, use of too many untrusted apps, etc.
Accidental Formatting: User may format the Volume that is containing important data rather than formatting Volume which always give errors.
Volume Inaccessibility: Sometimes your Mac hard disk Volume may become corrupt and inaccessible due to formation of bad sectors on hdd, volume header corruption, etc. Due to this inaccessibility issue Volume data gets lost.
Hi5 Software Partition Recovery for Mac – Perfect Solution for Volume Recovery:
Hi5 Software Partition Recovery Mac is an appropriate solution to restore Volumes that are lost from Mac hard disk. User friendly interface and complete guidance on recovery process makes every user to restore Volume without any complications. An advanced scanning algorithm included in this tool makes Volume scan extremely faster.
More Ideal Features of Hi5 Software Partition Recovery for Mac:
Hi5 Software Partition Recovery Mac can easily and effortlessly restore deleted, lost, formatted, reformatted Volumes
It can also recover HFS, HFS+, FAT16, FAT32 partitions
Recovers Volume on any type of hard disk such as SATA, SCSI, IDE, etc.
You can use this tool to recover files erased from Trash folder
Find Tool option makes your recovered file search easier
Save recovery session is an advantageous feature of this tool which saves scanned information
Using this tool one can restore Volume on MacBook Pro, MacBook Air, Mac Mini, iMac effortlessly
You can evaluate performance of the software by previewing the recovered Volume data before you purchase licensed version
Supported File Formats:
Photos / Images – JPG, GIF,WEBP, BMP, PSD, TIF, TIFF, JPEG, PNG
Archives- ZIP, SIT, RPM, RAR, JAR
Documents- HTML, XHTML, RTF, DOC, PDF
Video Files – AVI, MOV, MPEG, MPG, MP4, 3GP, 3G2, RM, M4V, AEPX, ALE, AVP, AVS, BIK, BDM, BSF, CPI, DZP
Music / Audio Files – MP3, MP4, AIFF, AIF, WMA, MPC, VOX, GSM, AMR, M4b, WAV, MIDI, M4A, AIFC, RA
System Requirements:
Supported Operating Systems:
Mac OS X 10.5 x (Leopard), Mac OS X 10.6 (Snow Leopard), Mac OS X 10.7 (Lion), Mac OS X 10.8 (Mountain Lion), Mac OS X 10.9 (Mavericks), Mac OS X 10.10 (Yosemite), Mac OS X 10.11 (El Capitan) & Mac OS X 10.12 (Sierra)
Hardware Requirements:
This software can be applied on Mac system drives having file systems like HFS+, HFSX, FAT16, FAT32. Moreover, it also needs a minimum requirement of 1 GB RAM.
Disk Space (Hard Drive) - 50 MB for installation
System Type (OS)- Both 32bit and 64bit
Steps to Restore Partitions on any Mac OS X Machines
Download and Install Hi5 Partition Recovery Software for Mac on any latest version of Macintosh machine
Main screen shows "Volume Recovery" and "Formatted / Reformatted Recovery" options (Fig 1)
If you want to recover files/data deleted or lost from Mac Volume, then click on "Volume Recovery" option. In case, if you've reformatted or formatted Volumes on Mac, then go for "Formatted / Reformatted Recovery" option
Software will display set of available Volumes on the screen, select the appropriate one and click on "Next" option (Fig 2)
After selecting the Volume, software starts scanning that particular disk (Fig 3)
Once the recovery process is finished, recovered Volume data will be displayed in "File Type" and "Data Type" views (Fig 4)
View retrieved Volume files by clicking on "Preview" option and save by clicking on "Save" button
Related Software
Hi5 File Recovery Software for Mac
Files can be deleted or lost intentionally or accidentally. However, worth of crucial files is known only when you won't get any easy way to restore them back. Don't Panic! Here is an effective File Recovery Software for Mac to recover missing files on Mac.
Hi5 Photo Recovery Tool for Mac
Photo serves as an important part of life. With problems like deletion / loss of files arising rapidly, you need the best software in line to overcome the problem. Hi5 Software for Mac Photo Recovery is the best one to go with!
© Hi5 Software, All Rights Reserved - All other trademarks acknowledged