Hi5 File Recovery for Mac
Completely recovers files of various formats
Restore files from MacBook Pro, MacBook Air, Mac Mini, iMac
Supports file recovery on various file systems such as HFS, HFS+, FAT16, FAT32
Find option to select particular file to be restored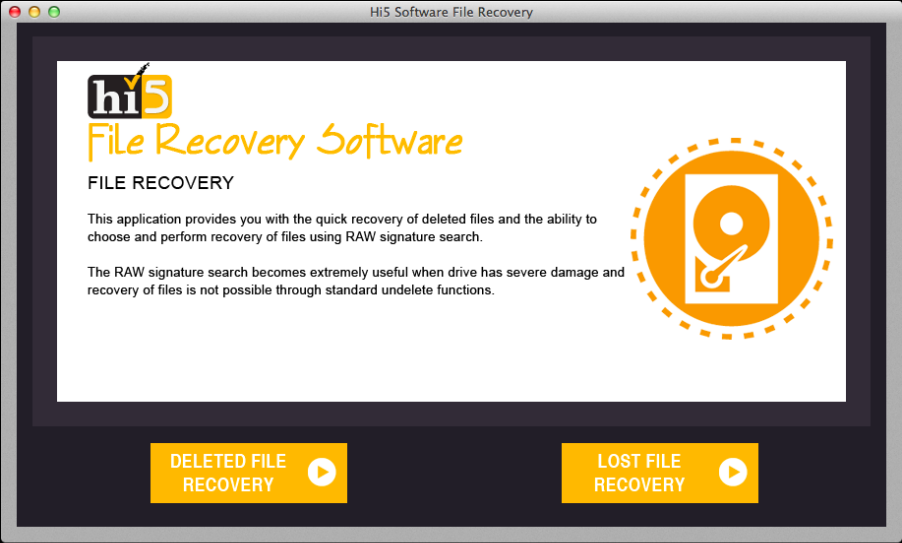 Lost your files on Mac? Here is a right solution to get back those files
Mac OS has got great demand among business people as it is more secure to hold data. Deletion of files in Mac system is very rare, most of time it occurs due to human mistake. If any of you come across file loss then you can make use of Hi5 Software File Recovery Mac to get back your files. Software offers wide variety of features which makes recovery of files easier.
Here is what you need to know after data loss
If you are really eager to recover your files that are lost from Mac Volume then stop adding new files to Volume because addition of new data will overwrite deleted files which are still intact to hard disk at same location. When files get deleted only file pointer will be removed hence still you will have chance to recover files using reliable software until it is overwritten.
Hi5 Software File Recovery for Mac features
This simple tool scans and recovers deleted or lost files from Mac Volume in simple steps
Restore all types of files such as documents, archived files, application, etc. from Mac Volume
Supports recovering files from HFS, HFS+, HFSX, FAT16, FAT32 file systems
Easily restores files that are erased from Trash folder
Common users can also use this tool and perform recovery in easy manner because the software is incorporated with simple friendly interface providing complete guide to recovery
Software enables you to select particular file format which you are looking forward to restore
Capability to perform file recovery on Mac system having SATA, SCSI, IDE hard drives
"Find Tool" option of this software helps user to find particular file quickly in recovered file list
You can have preview of recoverable files
24*7 technical support is available to solve your queries regarding product
In what all situations Hi5 Software File Recovery Mac becomes beneficial
Empty Trash: In order to reduce the memory space of the Mac hard disk, if you empty the Trash folder without cross checking for contents then data present on that Trash gets erased permanently.
Improper Cut Paste Operation: When transferring files on your Mac system using cut paste operation in order to separate the related files, if this process is interrupted before completion of paste operation then you are likely to lose the selected files from Mac Volume.
Defragmentation: If the Volume data is fragmented due to any reason then that Volume becomes inaccessible and you will end up with loss of such Volumes on Mac hard disk.
Interrupt Transfer Process: While moving files from Mac system to external device, if any sort of interruption occurs like sudden system shut down or removal of device then there is maximum chance of losing your files.
Supported File Formats:
Photos / Images – JPG, WEBP, IMG, EXIF, JPEG, PNG, BMP, PSD, TIF, TIFF, GIF
Video Files –  RM, M4V, MOV, MPEG, MPG, MP4, AVI, 3GP, 3G2
Text File Formats - RTF, PDF, DOC, HTML, XHTML
Archivesn-  RPM, RAR, JAR, ZIP
System Requirements:
Operating Systems – Mac OS X 10.5 (Leopard), Mac OS X 10.6 (Snow Leopard), Mac OS X 10.7 (Lion), Mac OS X 10.8 (Mountain Lion), Mac OS X 10.9 (Mavericks), Mac OS X 10.10 (Yosemite), Mac OS X 10.11 (El Capitan) and Mac OS X 10.12 (Sierra)
RAM – 1 GB (Min), 2GB (Recommended)
Computer Type – 32bit or 64bit OS
File systems – HFS+, HFSX, FAT12, FAT32
Steps for Recovering Files on any Mac machine
Download and launch Hi5 File Recovery Software for Mac on any Mac OS X machines
Click on either "Deleted File Recovery" or "Lost File Recovery" according to the situation you're facing and go to next screen (Fig 1)
Now you can see all the available Volumes in Mac OS X will be displayed on the screen, including externally connected hard drives/flash drives. Select the appropriate Volume from where you want to recover files and click on "Next" option (Fig 2)
Hi5 File Recovery Tool start scanning selected Volume (Fig 3)
After the completion of file recovery process, you can view recovered files (Fig 4) by clicking on "Preview" option
Easily save retrieved files on anywhere i.e, internal OS X Volumes or external hard drives by clicking on "Save" option
Related Software
Hi5 Software Deleted File Recovery Mac
Make use of this Advanced deleted file recovery utility to restore deleted files on Mac OS X regardless of reasons behind deletion. Compatible with all the popular versions of Mac OS.
Hi5 Photo Recovery Software for Mac
Effective, competent, ingenious program that will take care of recovery of entire set of media files (video, photo, audio) from various gadgets successfully on Mac systems.
© Hi5 Software, All Rights Reserved - All other trademarks acknowledged