Hi5 MOV File Repair
Easily fixes damaged or corrupted MOV files
Creates healthy MOV file without altering the source file
Handy interface makes the repair process simpler for all users
Option to preview repaired MOV videos before saving is available
Compatible to repair corrupted MP4 files, along with MOV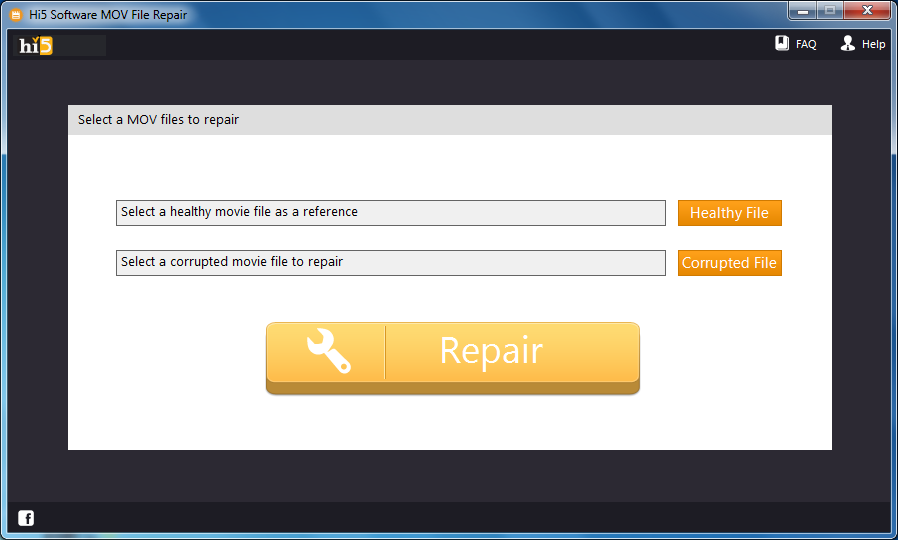 Know about MOV video corruption:
MOV video is one of the renowned file formats, which offer high-resolution video playback. Your MOV video clip works fine until it is interrupted by any third party source. Interruptions while transferring MOV video may cause corruption or damage the video and makes it inaccessible. You cannot play such inaccessible videos. And, you must repair those video clips in order to make them playable again.
What are the reasons for MOV video inaccessibility?
Use of Unreliable Software: Use of an untrustworthy tool to recover deleted or lost MOV videos may lead to corruption of the video file making it inaccessible.
Unsupported Media Player: If you try to open the MOV video on unsupported media player repeatedly then there is a chance of MOV video file getting damaged and corrupted.
Header Corruption: Header is the main part of a video file, which contains basic information of MOV file and is necessary to play it. Corruption/damage to this header leads to inaccessibility of the file.
How to repair MOV video files to make them playable again?
Corrupted MOV files, which refuse to open can be made playable only after fixing issues that have occurred in those MOV videos. This fixing of video can be done by using effective MOV repair software, which is readily available. Hi5 MOV File Repair Software is one powerful tool that is designed with advanced algorithms, which scans entire MOV video to fix it in mere seconds. Using this highly advanced MOV File Repair Software you can effortlessly fix MOV video files that deny running on any media player due to file corruption.
Prominent features of Hi5 MOV Video Repair Tool:
This MOV file repair software fixes MOV and MP4 video files that are corrupted or damaged severely
The tool generates a playable MOV video without altering the source file even a single bit. Thus, it extracts contents of the corrupted video, creates its replica and works on it
It effectively repairs MOV videos that are unplayable on any media player
You can use this MOV video repair tool to fix large sized MOV videos
Simple interface of this MOV repair software allows novice user to fix MOV video files without much effort
The utility can be used to repair MOV videos stored on external storage devices like smart phones, digital cameras, pen drives, etc.
Besides all, you are free to preview the fixed MOV file. So, that you can judge the quality of repaired MOV files before restoration
Supported codec's:
Codec's supported for Video are: AVC1, MP4V, MJPEG
Codec's supported for audio are: SOWT, RAW, MP4A
Supported File Formats: Compatible to repair video file formats with extensions like .mov and .mp4
System Requirements:
Mac OS X 10.6 (Snow Leopard) and Mac OS X 10.7 (Lion), Mac OS X 10.8 (Mountain Lion), Mac OS X 10.9 (Mavericks), Mac OS X 10.10 (Yosemite), Mac OS X 10.11 (El Capitan) & Mac OS X 10.12 (Sierra)
Windows 10, Windows 8.1, Windows 8, Windows 7, Windows Vista, Windows XP, Windows Server 2003 and 2008
Hardware Requirements:
You need to have 1 GB RAM (minimum) on your system in order to use this software. Apart from this, it requires free disk space of 50 MB. Hi5 MOV File Repair Software uses a 64-bit Mac OS & 32-bit and 64-bit Windows OS having file systems like HFS, HFS+, FAT, NTFS, ExFAT.
Steps to Fix MOV Video File:
Download Hi5 MOV File Repair Software on your computer
Complete the installation procedure and launch the tool
Provide a healthy (working) MOV file using Healthy File option
Now choose your corrupted or unplayable MOV/MP4 file via Corrupted File key
Start the repair course by clicking on Repair button (Fig 1)
Software starts the scanning and repairing process (Fig 2)
Once the fix action gets completed you can view the fixed MOV/MP4 video using Preview option (Fig 3)
Save the repaired video file on any desired place (except source location) on your system by clicking on Save button (Fig 4)
Related Software
Repair corrupted Microsoft Outlook PST file and recover different attributes lost or deleted from it, using efficient Outlook PST Repair Tool.
Repair damaged PSD and PDD files and recover its layers along with color mode using one of the best Hi5 Software for PSD File Repair.
© Hi5 Software, All Rights Reserved - All other trademarks acknowledged