Hi5 Outlook PST File Repair
Repair PST or OST files of different versions of MS Office
Repairs password protected PST file of any size
Recover all attributes from healthy or corrupt Outlook profile
Mend PST file and restore lost / deleted folders when Scanpst.exe fails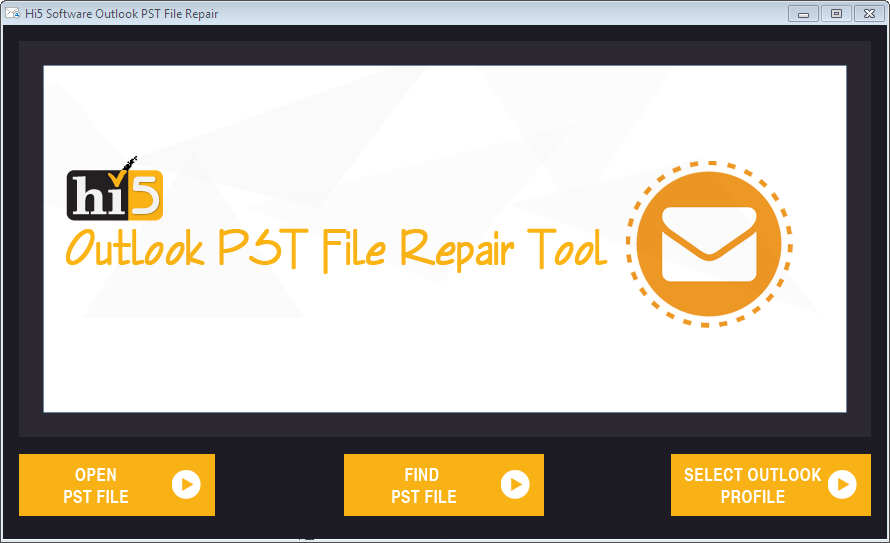 Overview
Outlook is a personal information manager and e-mail client which is a part of Microsoft Office suite and needs Exchange server or SharePoint server to work. The usage of Outlook has been increased with time as Outlook data can also be synced with Smartphone. These may get corrupt for several reasons and so only Inbox Repair Tool (Scanpst.exe) comes with Outlook. But Scanpst.exe is not effective and is not a solution for severe PST file corruption. Sometimes running Scanpst.exe may delete some folders that could not be read by it and further damages PST file. This makes you stunned if PST file consists of any important data. However, do not ponder over lost data from your corrupt Outlook profile unless Hi5 Software Outlook PST File Repair is there.
Hi5 Software Outlook PST File Repair helps you to fix severely corrupt PST or OST files and recover data stored in them. It is capable of retrieving various attributes like emails conversations, Calendar Items, RSS Feeds, Contacts, Notes, Appointments, Journals, Tasks and so on from Outlook profile. Hi5 even gets you back all your personalized folders created on Outlook PST file using its effective scanning mechanism. It reads and places a new copy of PST file in a specified location. Hence Hi5 ensures no damage to existing PST file.
Remarkable Features!!
Provides simple interface to be navigated easily by even less tech savvy users
Offers different options to locate Outlook PST file with ease
"Normal Scan" and "Smart Scan" are the two different scan methods to choose from and customize scanning process
Recovers deleted emails, Contacts, data deleted from "Deleted Items" folder or any other folder
Displays the information of Attributes of scanned PST file which could be previewed in Outlook styled window
Generates Outlook PST file in Outlook 2003-2010 format and makes import easy
Repairs highly encrypted Outlook PST files
Fixes PST files bigger than 20 GB in size smoothly
Events causing damage of Outlook PST File:
Abrupt closure: When Outlook PST file is closed abruptly then PST file goes corrupt. Sometimes an add-in may keep Outlook open in background, if you shut down the system then you contribute for PST corruption
PST oversize: Outlook PST files will be having a maximum size limit. If data on PST file accumulates and exceeds specifies size limit then PST gets corrupt
Virus infection: Viruses enter PST files and affect to make them corrupt. You will not be able to access PST files in that situation
Improper compression: When you want to reduce size of growing PST file, it is not enough to delete junk data from PST. The memory is not released by deleted data and hence you need to compress PST file. If compression is not carried out properly or the process fails / interrupted then PST file will get corrupted
Sharing over network: There are chances of PST corruption when it is shared over a network. Many users may modify PST in shared network frequently and PST is not designed to be used in such environment
Other reasons: PST file may get damaged after upgrading Outlook to higher version, re-installing Windows OS, etc
Key Reasons to use Hi5 Software Outlook PST File Repair
Hi5 Software Outlook PST File Repair is built by considering lots of points into account like data safety, security and time to scan PST file. The scanning methods used in Hi5 have given high success ratio on usage. It is read only tool and keeps original PST file unaffected. The highly knowledgeable technical team is present anytime for your assistance.
System Requirements:
Operating Systems – Windows 10, Windows 8/8.1, Windows 7, Windows Vista, Windows XP, Windows Server 2008 and 2003
Outlook Versions – Microsoft Outlook 2000, Microsoft Outlook 2003, Microsoft Outlook 2007, Microsoft Outlook 2010 and Microsoft Outlook 2013
Steps to Repair Outlook PST File
Download and Install Hi5 Outlook PST File Repair Software on your Window System
Main screen will display three main options (Fig 1)

Open Default PST File - Selects the default location of your PST File
Select PST File Manually - If you're aware of the Outlook PST File location, then choose this option and provide the PST file path manually
Find All PST Files - Select this option when you are not aware of the PST file path. It scans the entire drive to fetch the PST files present in your hard drive

Now you can see two different scanning options in this screen - (Fig 2)

Normal Scan - You can select this option when the severity of PST file corruption is low
Smart Scan - In case, if you've deleted emails, contacts, appointments, journals, notes, or any other Outlook attributes or if the severity of PST file corruption is high when Normal Scan fails to scan

After selecting appropriate options, click on "Repair" button to start repairing of corrupted or damaged Outlook PST file (Fig 3)
When the repair process is completed, you can view repaired and recovered Outlook PST File by using "Preview" option (Fig 4)
Now just import the repaired PST file and acces healthy and error free Outlook PST file
Related Software
Fix MOV and MP4 video files generated using any device using MOV repair software on Windows or Mac OS. Can repair MOV files corrupted in any scenario.
Repair corrupted or damaged Photoshop PSD files on Windows and Mac Operating Systems. Supports all popular versions of Adobe Photoshop like Photoshop 5.5, 6.0, 7 and CS1 to CS6.
© Hi5 Software, All Rights Reserved - All other trademarks acknowledged