Hi5 PSD File Repair
Fixes Adobe Photoshop file of any size
Repairs PSD files created on different Adobe Photoshop versions
Supports to repair RLE compressed PSD image
Repairs PSD file with Bitmap, gray-scale, indexed color, RGB color, CMYK color, multichannel color, duotone, lab color modes etc.
Developed for both Windows and Mac Platforms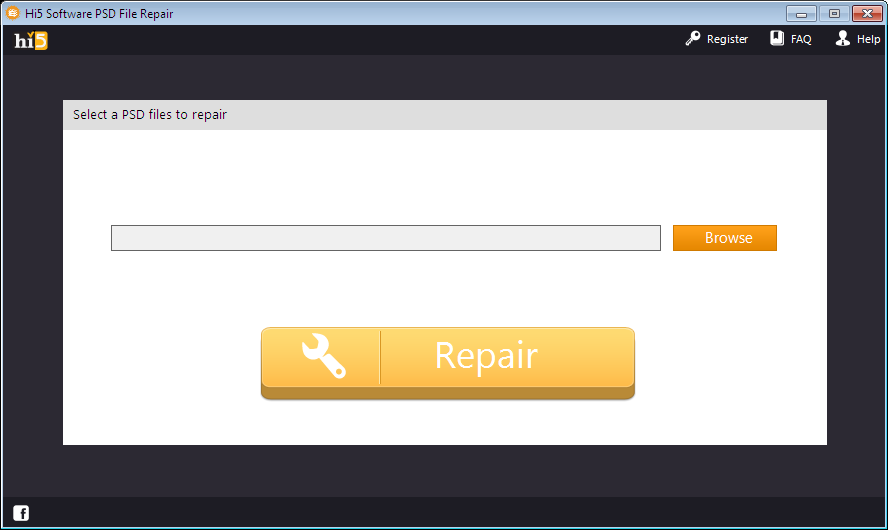 Overview
PSD files are the outcome of Adobe Photoshop application. Adobe Photoshop can help us incur great photography technologies with its mind boggling features. Unfortunately, the outcome of any program can't be safe in the digital world. With the generation of more and more people using Adobe Photoshop in various areas, PSD file may have to triumph over certain problems like virus infection, PSD header corruption, file not opening and so on. Perplexed? Relax! Hi5 Software PSD File Repair is there to heal the corrupted PSD file.
Stunning Features of Hi5 Software PSD File Repair
Read-only program makes sure that original file content is not altered
Easy to use with interactive GUI
PSD images with depth of 1, 8, 16 and 32 bit per channel can be fixed
5 simple steps can take care of corrupt PSD file
Preview contents of repaired PSD file before saving it
Try out demo version of this tool to highlight its working process
Technical assistance to make sure that no pull back occurs
Has support to fix PDD image file which is generated by Adobe Photoshop program
Situations where you end up damaging the PSD File
Malware / Virus attack on PSD file is sure to make it inaccessible
Corrupt Photoshop application can damage the PSD file severely
Sudden power loss or rapid exiting of Adobe Photoshop tool while PSD file is being processed
Download error may occur if you face internet break down causing damage to PSD file
Piling up of bad sectors on hard drive where PSD file is saved can increase chances of its corruption
Software / Hardware conflicts can impose serious threat to Adobe Photoshop PSD file
Change of file extensions of your Photoshop file can have adverse effect on the PSD image file
Abrupt interruption when PSD file is being collected across network on different systems
Compressing PSD or PDD files to decrease the file size can sometimes result in PSD file corruption
The main reason to use Hi5 Software PSD File Repair
No matter what type of Photoshop image file you throw at this tool, it just has one answer "Hit the Repair button and be amazed with the results". Powerful repairing techniques used in the program will make sure that irrespective of how your PSD file got corrupted; the end result will be a healthy accessible Adobe Photoshop PSD image. Make no hesitation to call in technical support team who will be available at any point of time to resolve your issues straight away.
Supported File Formats:
Hi5 Software PSD File Repair allows you to fix damaged PSD and PDD Photoshop files
System Requirements:
Can be easily installed on:
Microsoft Windows 10, Windows 8.1, Windows 8, Windows 7, Windows Vista, Windows XP, Windows 2003 and Windows 2008
Mac OS X 10.6 Snow Leopard (64-bit), Mac OS X 10.7 Lion (64-bit), Mac OS X 10.8 Mountain Lion (64-bit), Mac OS X 10.9 Mavericks (64-bit), Mac OS X 10.10 Yosemite (64-bit), Mac OS X 10.11 El Capitan (64-bit), and Mac OS X 10.12 Sierra(64-bit)
Hardware Requirements for both Windows and Mac operating system:
For installing this software one needs to have atleast 1 GB RAM and more capacity and a free space of 50 MB. This software supports execution on 32-bit and 64-bit PC Mac and Windows PC
Supported Adobe Photoshop Versions:
Adobe Photoshop 5.5, Photoshop 6.0, Photoshop 7.0, CS, CS1, CS2, CS3, CS4, CS5 and CS6
Steps to Repair Photoshop PSD File
Download Hi5 PSD File Repair Software on your system and complete the installation process. Once the installation process is completed you can then follow the below given steps -
Step 1: Launch Hi5 PSD File Repair Software
Step 2: Using "Browse" option, select the inaccessible, corrupted, unreadable PSD file (Fig 1)
Step 3: Click on "Repair" option to start repairing process (Fig 2)
Step 4: Software starts repairing selected Photoshop PSD file (Fig 3)
Step 5: Once the repair process is completed, you can check repir results using "Preview" option (Fig 4)
Step 6: Save repaired Photoshop File using "Save" option
Related Software
Repair corrupted MOV and MP4 video files by fixing the errors encountered when they are accessed, by using suitable MOV repair tool like Hi5 Software for MOV File Repair.
Use the best Hi5 Repair Software to get AVI, XVID and DIVX files to working condition which got corrupt due to various unfavorable conditions.
© Hi5 Software, All Rights Reserved - All other trademarks acknowledged