Android Data Recovery
Brings back lost or erased data with ease
Supports wide range of Android devices such as Smartphone and Tablets
Along with music, image and video files, it also recover Android application package files (.apk)
Scans both internal and external Android phone memory
Also regains data from improperly mounted Android SD cards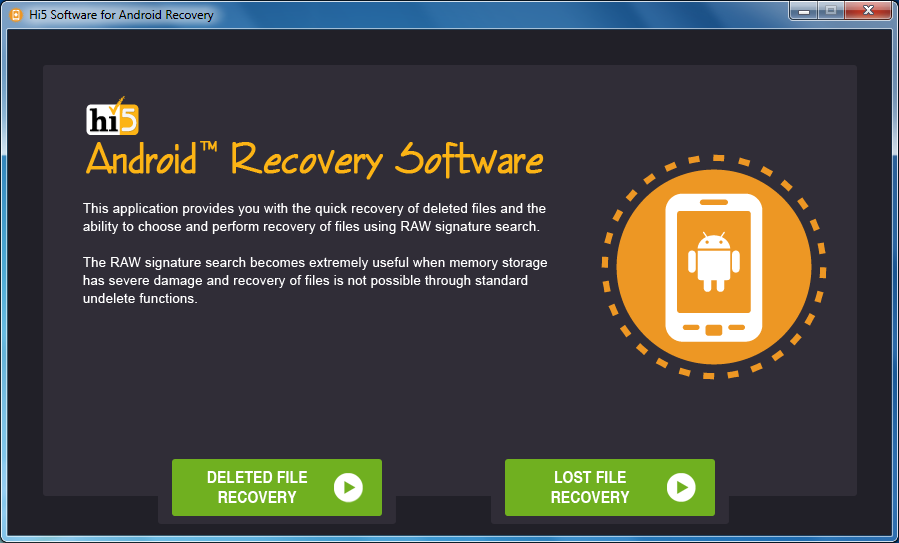 Overview
Android operating system has changed the entire concept of the Smartphone and gives a new dimension to the mobile world. Nowadays Android device has become the popular choice among customers due to its user friendly interface and massive applications. As more and more people start using Android Smartphone, it's quite common that people accidentally delete photos, videos, music and other files from Android devices.
However, one need not be tensed after losing files from Android OS based device as you can get them back with the help of Hi5 Software for Android™ Recovery. It is a revolutionary new product designed to recover lost or deleted data from Android devices like Smartphone and Tablets. This powerful software vigorously scans both internal and external phone memory of Android device to identify the deleted and missing data including Android application package files (.apk). This data recovery utility has the capability to retrieve formatted Android SD card data without harming the original contents of data. It has Preview option, using which you can check whether you have restored the right files or not. This Android recovery product is quite simple and easy to use.
Unique Features Engraved in Hi5 Software for Android™ Recovery
Provides user friendly interface and it can be used by every Android Smartphone user
Restores all types of files from Android phones such as music, pictures, videos and other documents including .apk
Sorts the recovered data according to their file types, name and size
Support data recovery from all Android mobile phone brands such as Samsung, Motorola, HTC, LG, Micromax, Sony, and many more
Provides "Save Recovery Session" option to avoid re-scanning of Android device
It has capability to recover data from improperly mounted SD cards
Events that causes loss of files from Android devices
Accidental Deletion: Accidentally deleting data or unauthorized person removing data from your Android Smartphone internal storage memory or SD card can cause permanent deletion of data from the device
Formatting: Unintentionally formatting the Android storage device will completely wipe the important data present on Android Smartphone
Virus Attack: Virus or malware infection on Android device can infect the stored data and make it inaccessible, which leads to data loss
Mishandling: Abruptly ejecting memory card from the Android device or frequently using the same Android SD card on different portable devices can erase your precious data
Other Scenarios: Other situation responsible for data loss from Android device include power surge, transfer errors, memory card file system corruption, etc
Why users prefer Hi5?
Hi5 Software for Android™ Recovery is developed with an advanced scanning algorithm that securely scans the Android storage device and find out deleted and lost files from it. This Hi5 software is 100% safe from external threats and it is a read-only recovery tool which ensures that your file will not be damaged during recovery. Free 24/7 customer service support will be given to answer your queries related to the application. Hi5 software ensures time to time software up-gradation and makes it available to the users for free of cost. Regular free updates are provided for the software in order to fix bugs and to improve the stability. Moreover, it provides trial version using which you can check the performance before proceeding further to activate full version.
Supported File Formats by Android Recovery tool
Photos / Images – JPG, JPEG, PNG, WEBP, BMP, GIF
Video Files – AVC, MP4, 3GP
Music / Audio Files – AAC LC, MP3, MIDI, WAVE
System Requirements
Hi5 Software for Android™ Recovery can be executed on latest versions of Windows operating system such as Windows 8, Windows 7, Windows Vista, Windows XP and more. You can employ this tool to restore data from phones installed with Android Ginger Bread, Android Ice Cream Sandwich and JellyBean versions
Screenshots
Related Software
With the increase in number of gadgets, user finds it very easy to capture photos. But due to some unwanted scenariosyou might face deletion or loss of entire set of files. Make use of Hi5 Software Photo Recovery to overcome the issue.
Hi5 Software Partition Recovery
Want to restore data from corrupted or damaged partition of your Windows OS? Then Hi5 Software Partition Recovery will help you in restoring of files. Whatever may be the data loss scenario, this tool can easily deal with all the issues and bring back data.
© Hi5 Software, All Rights Reserved - All other trademarks acknowledged