Hi5 Word File Repair
Repair damaged / corrupt DOC and DOCX Word files
Performs fast and precise DOC file repair task without damaging the original layout of the Word file
Capable of fixing DOC files with large file name and file size
Effectively restores data, OLE objects, images, forms, graphs, hyperlinks, tables and all other information from damaged DOC files
Preview repaired DOC file before restoring its contents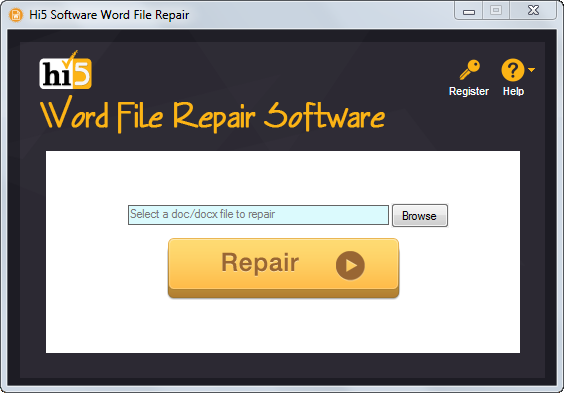 Overview
Microsoft Word is one of the widely used Word processing application and is noted as the most stable text editor with hundreds of handy features. But many users often come across variety of errors while accessing or working on Word documents. The error messages clearly show that the Word file is corrupted. However, one can fix damaged Word file with the assistance of dedicated software named Hi5 Software Word File Repair.
Hi5 Software Word File Repair is a powerful and highly-advanced third party application that repairs corrupt, damaged or inaccessible MS Word .doc and .docx files with ease. This software is enriched with numerous outstanding features that resolve various error messages generated while accessing Word documents. It is safe, simple and secure software so that every computer user can use this repair utility without any difficulties. Moreover, this repair software can easily repair corrupted Word files from memory cards, hard drives, USB drives, iPods and external hard drives.
Exclusive Features of Hi5 Application
Repairs DOC files which refuses to open due to severe corruption
Repair all types of corrupt or inaccessible DOC and DOCX Word files with ease
It has ability to repair Word file which fails to open due to CRC or unknown errors
Supports repair of Word files created using Microsoft Word 2000, 2002, 2003, 2007, 2010 and 2013 versions
Along with repair, it also recovers Word file attributes such as fonts, OLE objects, images, forms, graphs, hyperlinks, tables etc.
Facilitates you with instant preview of a repaired Word file
Repaired DOC files can be stored to any accessible drives on system or external drives
Reasons for Word File Corruption
Word file gets corrupted due to accidental changes or alterations in the document text due to CRC errors
Due to OS re-installation the existing Word files might get corrupt
Sudden or abrupt system shutdown while processing Word file can cause severe damage and become inaccessible
Virus or harmful threats present on the system can corrupt the Word files preserved on it
Word file might get corrupted due to transfer error occurred while moving Word document to other storage media
Continuous improper termination of MS Word file leads to corruption
What is good about Hi5 tool?
Hi5 Software Word File Repair is uniquely designed to repair inaccessible DOC files by extracting its contents and rebuilding a new healthy Word file. You can be rest assured to download this application as it is 100% virus free and does not modify the original data from Word file. It is available as a trial version for free that allows its users to evaluate the capabilities of the utility before making a decision to buy the full version. Hi5 software's support team will provide 24x7 supports to resolve your problem and provide answers to any number of questions related to product.
Supported File Formats:
Hi5 Software Word File Repair supports fixing of .doc and .docx Word file repair
System Requirements:
Operating Systems – Windows Server 2008 and Windows Server 2003, Microsoft Window 8, Window 7, Windows Vista, Windows XP, Windows 8.1 and Windows 10
RAM – Min 1GB RAM recommended
File systems – NTFS, NTFS5, FAT16, FAT32, exFAT
Steps to Repair Word Documents using Hi5 Word File Repair Software
Download and Install Hi5 Word File Repair Software
Select the corrupt Word .doc or docx file using "Browse" option (Fig 1)
Software starts repairing selected file (Fig 2)
Once the repairing process is finished, you can check the repair results using "Preview" option
If you're happy with the results, then you can go for buying Full version (Fig 3)
And after activating the complete version software on your system, then you can easily save fixed and healthy working Word documents by clicking on "Save" option (Fig 4)
Related Software
Use one of the best file repair tool called as Hi5 RAR File Repair Software to fix corrupted or damaged RAR files. It supports RAR files created using all the latest versions of WinRAR application.
Converting OST to PST never became such an easy task with the usage of productive Hi5 OST to PST Conversion application. Any healthy or corrupted OST file can be converted to PST.
© Hi5 Software, All Rights Reserved - All other trademarks acknowledged