Hi5 PowerPoint File Repair
Repair corrupt/damaged PPT, PPTX & PPS files
Successfully repair and recover slides along with images, clip arts, hyperlinks, etc.
Fix PowerPoint files generated on any version of Microsoft PowerPoint
Simple GUI of this utility allows any user to perform PowerPoint repair process effortlessly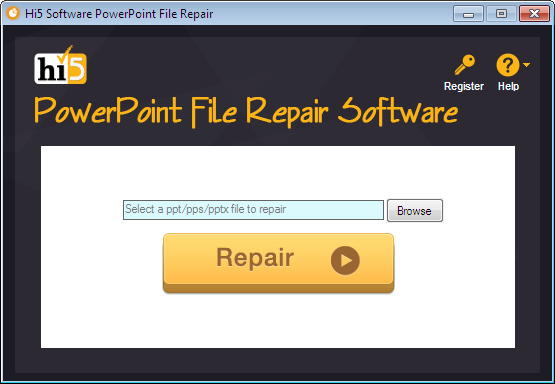 Overview
PowerPoint is a Microsoft application used by many professionals to create presentation slides. This beneficial app can turn curse to users when created PowerPoint file become corrupted and would not open. However its nerve wrecking to think that all your work went into drain but you would be happy to know that corrupted presentation file can be easily fixed by using Hi5 Software PowerPoint File Repair application. Have a look at some unique features of this tool before purchasing software.
Why Hi5 Software PowerPoint File Repair is a better option:
Easily fixes corrupt or damaged PowerPoint files in no time
It supports all formats of presentation files such as PPT, PPTX and PPS
Simple interface incorporated in this tool helps any inexpert to repair PowerPoint file easily without any complications
Tool can even recover all attributes of presentation slide such as text, animations, sound effects, images, hyperlinks, header and footer of the slide effectively
Hi5 Software PowerPoint File Repair is one of the safest tools which does not alter contents of your original PowerPoint file but instead extracts data from it generating healthy file
Offers easy way of fixing PPT files created on any version of Microsoft PowerPoint
It provides preview of repaired PowerPoint files before saving it to a desired location
Know why your PowerPoint file refuses to open:
Interruption during Transfer Process: Suppose transfer of PowerPoint presentation is halted as a consequence of power failure or unexpected system shut down then PPT file which is currently in access can get corrupted
Change of File Extension: Change of PowerPoint file extension from .ppt to .pptx many number of times results in corrupted PowerPoint file
PPT Header File Corruption: Header is an essential part to open the PowerPoint Slide because it contains essential information of this file, if this header is corrupted on account of power failure while editing the PPT file, virus affection, etc. then it is resulted in header corruption of PowerPoint file making it inoperable
Supported File Formats:
PowerPoint File Formats: PPT, PPTX and PPS
System Requirements:
Operating system requirements:
Windows 10, Windows 8, Windows 7, Windows Vista, Windows XP, Windows Server 2008 and Windows Server 2003
File Systems:
FAT32, FAT16, NTFS, NTFS5, exFAT
Supported PowerPoint versions
MS PowerPoint 2000, 2002, 2003, 2007, 2010 and 2013
Steps to Repair PowerPoint File
Step 1: Download Hi5 PowerPoint File Repair Software on your Computer/Laptop
Step 2: Use "Browse" button to locate corrupted PowerPoint file (PPT, PPTX, PPS) and click on "Repair" option to start repair process (Fig 1)
Step 3: Software start repairing process (Fig 2)
Step 4: Once the PowerPoint file is repaired, you'll get the sucessful repaired message (Fig 3)
Step 5: Check repaired PowerPoint files using "Preview" option and click on "Select Folder" option to choose the destination folder to store repaired files on your desired location by clicking on "Save" button (Fig 4)
Related Software
Is your AVI video files unplayable due to corruption issues? Don't Panic! Use Hi5 AVI Repair Software to repair corrupted AVI files and make them playable again. Compatible with all popular versions of Windows and Mac Operating Systems.
Files are generally compressed in order to save disk space and for easier transmission of data. However, corruption in RAR file creates a big problem by making data inaccessible. Using Hi5 RAR Repair Tool and fix the corruption issue to avoid this problem.
© Hi5 Software, All Rights Reserved - All other trademarks acknowledged