How to Repair Corrupted AVI Videos That Won't Play?
"I have an AVI file that doesn't play on any media player installed on my system. I am unable to play it and an error message is displayed stating that the file does not support. Is there anything I can do to fix the AVI file that won't play?"
AVI is one of the most preferred and used video file formats across the world, when compared to other formats like XVID, DIVX, MOV, MP4 etc. However, sometimes, the user face problem in playing these AVI videos due to various reasons. So, in this informative article, it is explained how to fix AVI file that won't play in two simple techniques.
VLC Media Player to Fix AVI Videos That Won't Play:
You can easily repair an unplayable AVI video using the VLC using the below procedure.
Open the VLC media player and click Tools
Select Preferences then, Inputs / Codecs
Next, choose Always fix option from the Ask for action drop-down
Click the Save button and close VLC player
Now, try to open the AVI file.
Don't worry, if you are still facing the problem "AVI file won't play", even after using VLC to fix it. In fact, VLC media player cannot repair severely corrupt or damaged AVI videos. Such AVI files can be easily repaired if you use the right software. So, if you want to fix the AVI file that won't play, use Hi5 Software AVI File Repair.
How to Repair an AVI File that Won't Play?
Step 1: Run Hi5 Software AVI File Repair. Select the AVI file that won't play by clicking the Browse button, and hit the Repair option to start fixing the AVI file that won't play.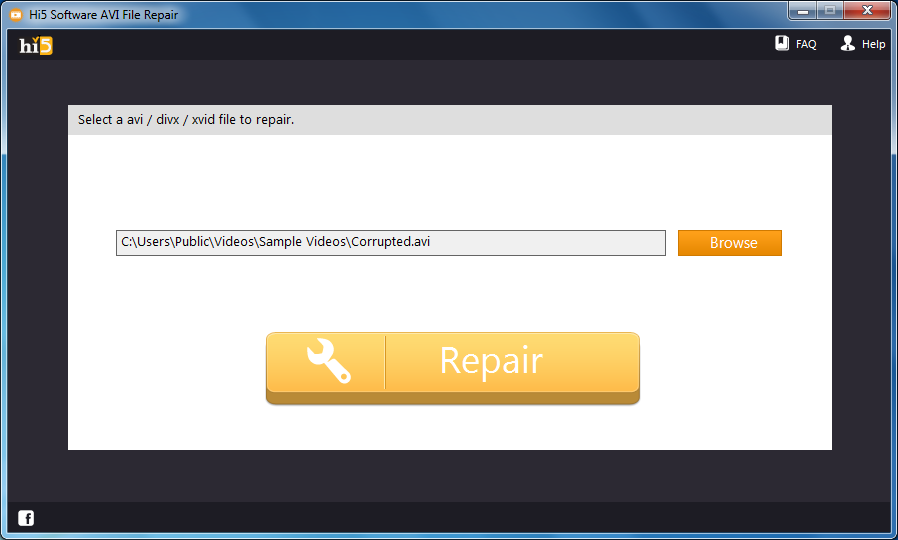 Step 2: Once the AVI file repair process gets successfully completed, play and Preview the repaired AVI video.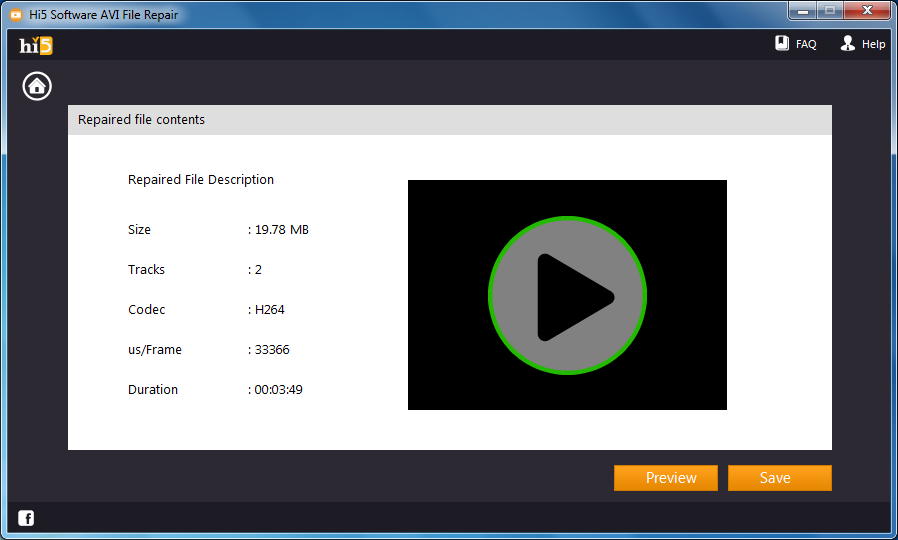 Step 3: Finally, Save the repaired AVI file on your desired location (preferably a new location).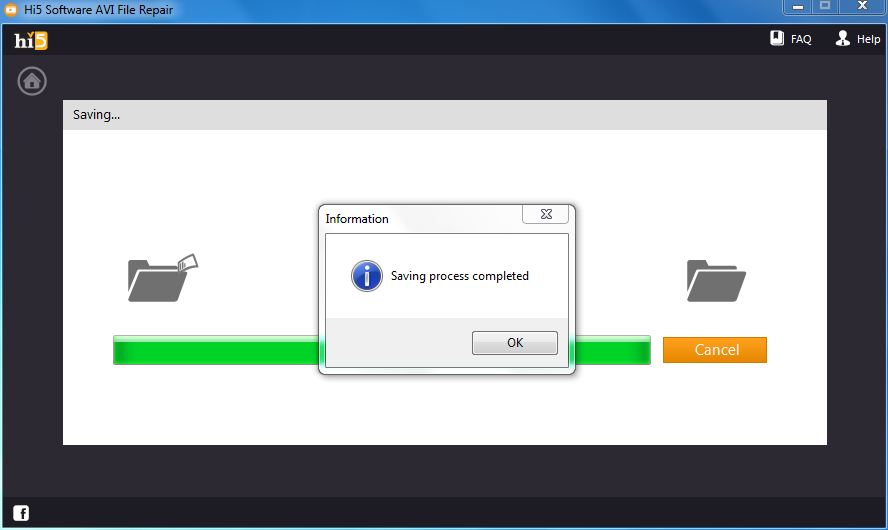 Hi5 AVI Repair to Fix AVI File That Won't Play:
Hi5 Software AVI File Repair tool supports fixing corrupted or broken AVI files on hard drive interfaces like IDE, SATA, and SCSI. It also supports repairing AVI files saved on external storage devices like external hard drive, pen drive, USB flash drive, iPod and various kinds of memory cards, SD cards. The tool is designed by an expert group of professional developers and is capable of fixing AVI file that won't play, inaccessible AVI files and AVI files that are damaged as a result of corruption or damage.
Once the software completes fixing corrupt AVI file on your system, it gives you a preview of the repaired file. Only if you are satisfied with the video file repair results, you can proceed to save the repaired video. This software also assures you that the original file is safe and untouched; as it works on a replica of your source file.
Fixing AVI broken index can also be carried out in a few simple steps using this powerful program. Moreover, it can be installed on all versions of Windows as well as on Mac OS X making it a platform-independent AVI repair tool.
Common Causes for AVI Files That Won't Play:
Virus or bad sectors in the system memory or storage drive where AVI files are saved
Playing AVI files on unsupported players i.e. players that don't support AVI file codec (this can have a serious influence on the file causing it to be damaged badly)
Closing the AVI video/media player abruptly while the video is being played
Improper AVI video recovery, etc.
Precautions to Avoid AVI File Corruption/Damage:
Never close the media player when AVI video is still playing
Keep the drive that holds your important AVI videos clean and virus-free
Don't play your important AVI videos in an incompatible player
Related Software
Advanced algorithm for quick photo recovery from all versions of Windows Operating system. to know more about this tool click on given link
Hi5 Software for Android Recovery
Secure tool to recover all deleted, formatted or lost files from Android Smartphone. It supports all latest versions of Android Operating System.
© Hi5 Software, All Rights Reserved - All other trademarks acknowledged